Quintet24 intelligent omnichannel at its finest
Ordering trade fair online
Remote life:
Supply chain interruptions, backup supply challenges and uncertainty about the future.
We need time to get used to our new remote life.
Health is currently our most important asset.
We can and should prepare the way for an orderly system after the crisis.
It's not about profit, it's about the common good:
supply chains, ensuring there are backup supplies and jobs.
It's about security.
Immediate help to get your online sales up and running!
Quintet24 – more than a digital sales tool: quick, reliable and unbureaucratic help
The corona virus is currently interrupting production chains worldwide and causing crises both in supply and demand.
"How can I get my urgently needed goods? How can we react intelligently to short-term needs? We can't do that with our B2B."
We at MobiMedia would like to help:
Quintet24 is capable of intelligent instant programs. Products enter the portal via standard interfaces or manual input. Interactive workbooks illustrate your product with intuitive order entry. Manufacturers contact MobiMedia and in the blink of an eye the current offers appear on the industry portal.
The portal is not sector-specific.
There are no fixed costs. Unbureaucratic support.
Decision-makers and buyers can see at a glance
who has something for them. Only authorised users see your offer and you receive the orders within hours.
Just sign up at MobiMedia –
We can help!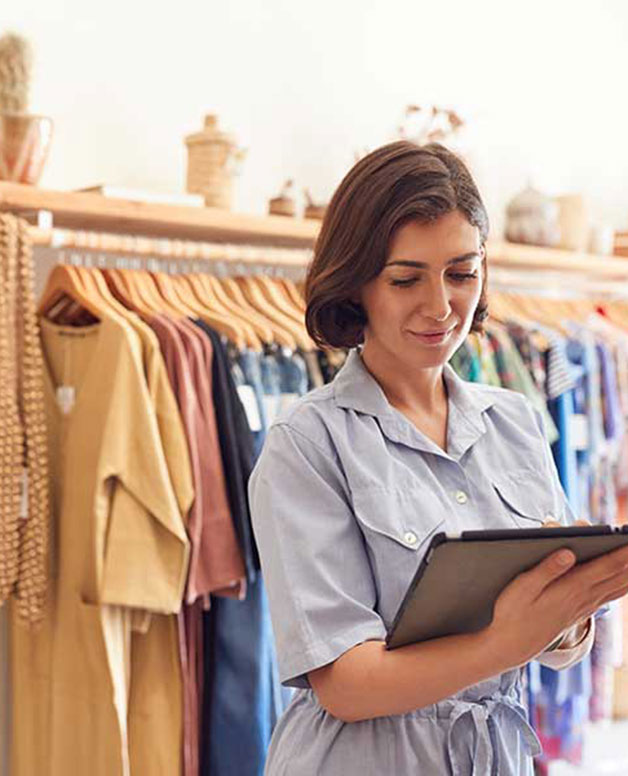 Features
Order smarter:
Quintet24®
Implement trends quickly
New collections month by month – just scroll, filter, order. Whether it's capsules or drops. You turn every trend into sales. Always up-to-date with the latest numbers. Secure worldwide.
Perfect look
Virtual catwalk, videos, 3D animations or cover letters – your SalesRep will be happy about clear support. Your omnichannel tools are integrated and clear.
Individual workbooks
Our workbooks are individual. So dealers have real sales help. And material from the book can be downloaded for digital products of the trade. Always suitable for the goods at the POS.
Easy data maintenance
Integrate your data? No problem – we've got a simple and solid solution. As you've come to expect from MobiMedia personal service. It's no coincidence that industry figures worldwide rely on MobiMedia CRM platforms.
Evaluations simply by click
Only your customers have access to your offer. A proactive evaluation shows you the success of your programmes. Problems with the order are immediately noticeable and can be corrected immediately by the sales staff.
More margin
You can calmly manage limits and can order closer to the time of delivery or make-up your shortfalls faster. Less product pressure, fewer copies to constantly set new accents at the POS. That ensures desirability and margin.
Professional support for
your sales success
Easy to use & intuitive
Quintet24 is an intelligent portal that connects buyers and suppliers, retailers and manufacturers.
The buyer can find many of their suppliers here and can specifically adjust their order request. They find the relevant suppliers and then enter the digital supplier showroom to get their desired products. There's one access for all suppliers; but when ordering, the buyer stays exclusively with the selected brand.
In the portal, we support the sale of marketing-accompanying pre-order programmes, re-ordering for products and combinations and post-orders at the POS via smartphone. In addition, the dealer receives marketing support for their advertising, training of sales staff and, as a highlight, the opportunity to populate digital screens in the shop with up-to-date information.
Manufacturers support buyers with fashionable information and new products to make it easier to capture seasonal highlights.
MobiMedia customers have automatic access to the portal and can easily publish desired programmes and products. The incoming orders are also automatically integrated in the order tool.
Customer testimonials:
"We were also impressed by the convenient interfaces and the visually high-quality support during the work." "We look forward to the possibility online orders for the pre-order programmes. That will save us a lot of money, and we will always get the latest programmes."
Andreas Hauser, Head of Customer Service Margarete Steiff GmbH
Customer testimonials:
"We are looking forward to the online order option for pre-order lines. This will save us considerable costs and we will always receive up-to-date lines."
Roman Pollozek, Shopping Pollozek
Discover the strength of Quintet24!
DE 84347 Pfarrkirchen
Dr.-Bachl-Straße 2
+49 8561 96160
info@mobimedia.de